DUOMO FLORENCE – Cattedrale di Santa Maria del Fiore
Duomo Florence or Santa Maria del Fiore di Firenze, is the cathedral located in Piazza del Duomo.
It is possible to see six different sights at the Duomo complex during a visit. Visitors are free to visit the cathedral's interior; additional tickets are required to see the Dome ( Brunelleschi's dome ), Baptistery, Museum, and bell tower ( giotto's campanile ). It is only possible to visit these parts of the Piazza del Duomo with a limited number of groups.
The Duomo-Santa Maria del Fiore, the Cathedral of Firenze
With its gigantic dimensions, Santa Maria del Fiore was the largest church in Europe when it was completed in the 15th century and was the fourth-largest church in the world ( after St. Peter's in Rome, St. Paul's in London, and the Duomo in Milan ). This structure is 153 meters long, 90 meters wide at the crossing, and 90 meters high from floor to bottom of the lantern. This homage to Florence's lily symbol was included as part of the dedication of Florence's cathedral, Santa Maria del Fiore, the Virgin of the Flower, in 1412.
This cathedral was built over a second cathedral dedicated to St. Reparata by early Christian Florence. Over the many years between its foundation and completion, the building's styles have changed in accordance with changing tastes.
Cathedral construction began in the late 13th century under Arnolfo di Cambio, and the Dome, which dominates its exterior, was added under Filippo Brunelleschi in the 15th century. Outside the cathedral's right side, you will find a statue of each of these famous architects, who are both eternally remembered for their work.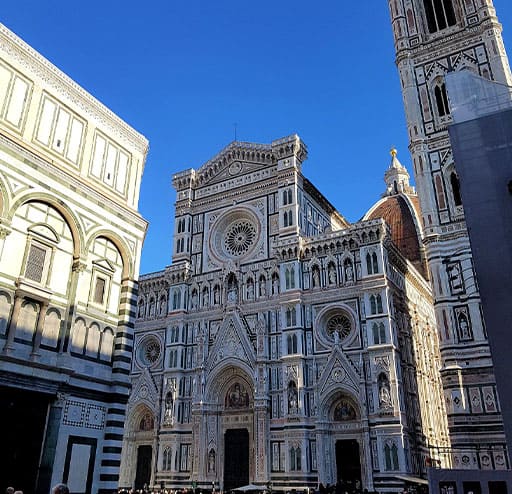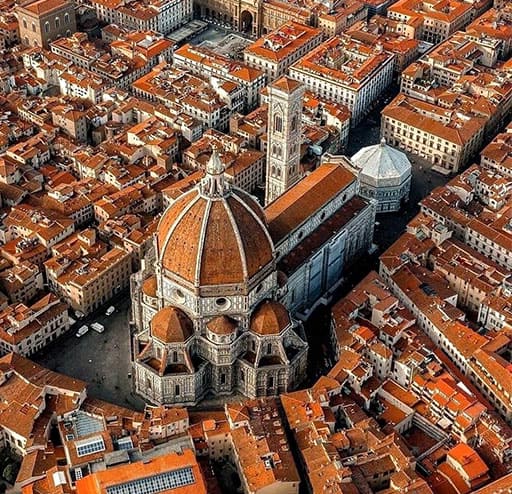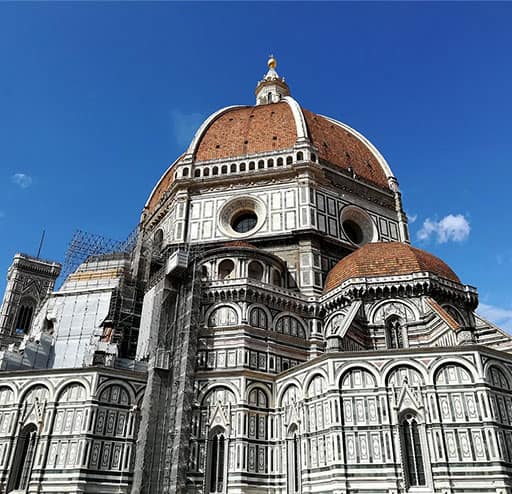 Brunelleschi's dome
In every sense of the word, the Dome is a masterpiece of art that has captivated the world ever since it was built: it has been seen as a symbol of Florence, the Renaissance, and the humanism movement in general ever since its construction.
There are 116 meters of height above ground and 45.5 meters of diameter around the Dome, making it the largest masonry vault in the world. In 1418, the Opera launched a competition for the submission of ideas, which Filippo Brunelleschi won and was built between 1420 and 1436. Pope Eugene IV held a consecration ceremony on 25 March 1436 at the Cathedral of Florence.
The Dome was built without any supporting structure, which was Brunelleschi's major innovation. There are two distinct domes in the Dome, one internal and more than two meters thick, composed of arches held together by ribs and made of bricks laid in a "herringbone" pattern. Dome's exterior is decorated with terracotta tiles and ribbed with white marble. The Dome consists of two distinct domes. The inner dome is more than two meters thick, has a deeper angle than the outer dome, and is constructed of brick arches that are arranged in a herringbone pattern. The exterior Dome is covered with terracotta tiles and is framed by eight white marble ribs.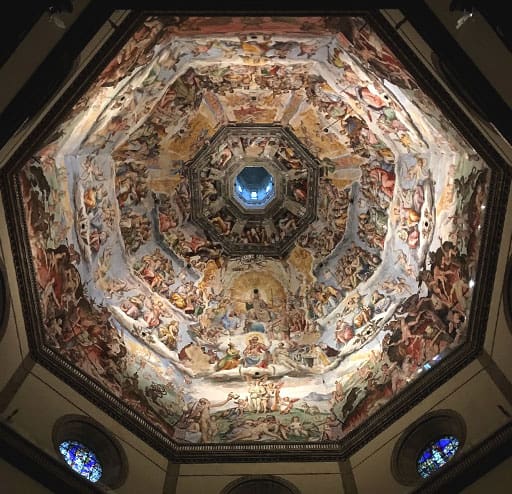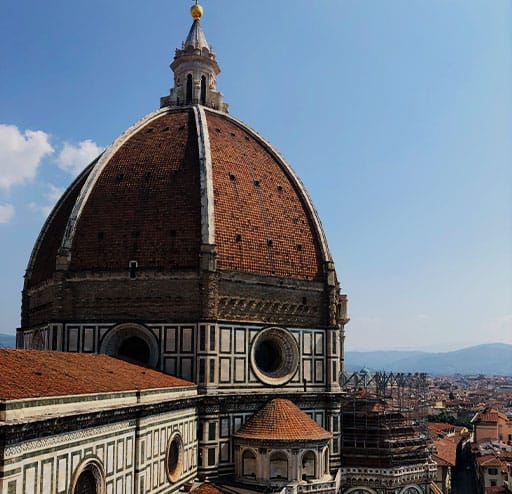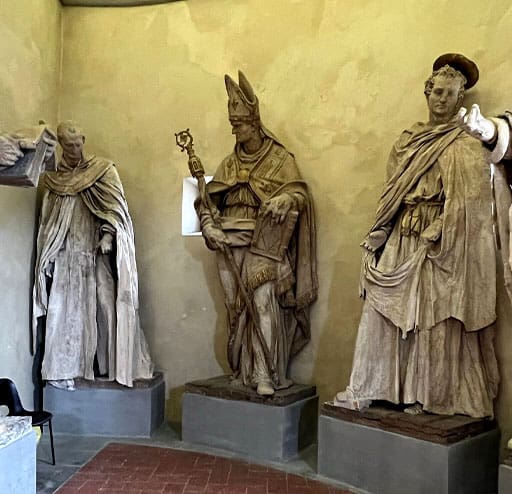 Giotto's Campanile (bell tower)
A Campanile was designed by Giotto next to the Duomo, but it wasn't completed until after his death.
There are 414 steps to climb in order to reach the top of the Campanile di Firenze, which stands 82 meters high.
The tower is finished in a variety of marble colours and with copies of reliefs by Andrea Pisano. It is possible to see the original reliefs in the Museo dell'Opera del Duomo.
It was Pisano who completed the construction of the Campanile after Giotto's death. Additionally, he changed the design of the Campanile to include a flat roof rather than the original spire.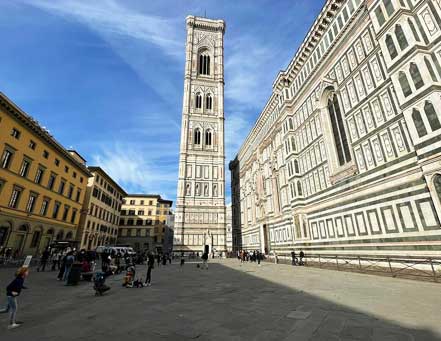 The Baptistery with the Paradise Gate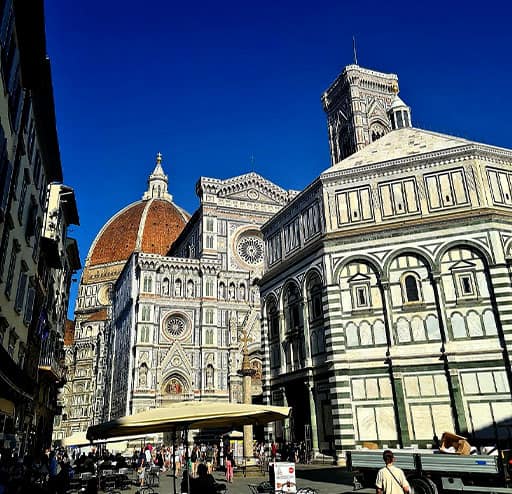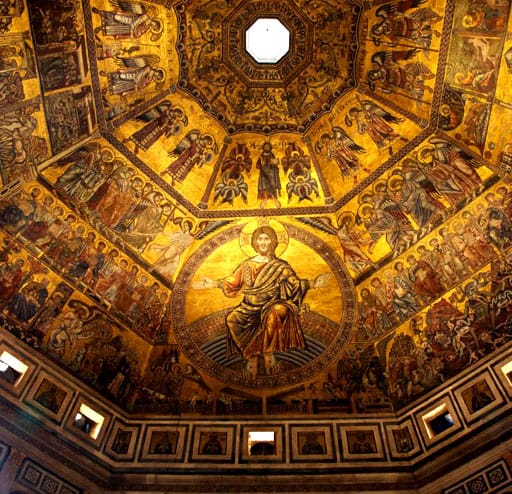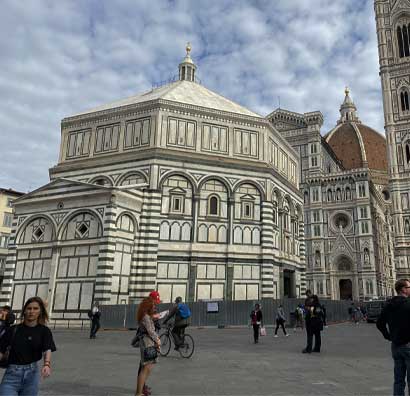 It was built before the construction of the Duomo on the Piazza di San Giovanni opposite Santa Maria del Fiore and is the oldest building in Florence. The Battistero di San Giovanni was constructed in the fourth century or fifth century AD.
Renaissance architecture contributed to the appearance of the Baptistery as we know it today. After that, it was covered with marble. Dante, among other famous Florentines, was baptized in this octagonal structure. There are a number of bronze portals in the Baptistery that have become particularly famous.
There were six doors made, of which the east doors are the most well-known. It was Lorenzo Ghiberti who made these ten-panel doors. The original doors were replaced with copies and are now on display at the Museo dell'Opera del Duomo.
In addition, there is remarkable mosaic work on the inside of the dome of the Baptistery. A combined ticket for visiting the Baptistery and cathedral museum is required in order to visit both sites.
Museo dell'Opera del Duomo – Museum of Opera of Saint Maria of Fiore
In the Museo dell'Opera del Duomo, you will find works of art from the cathedral, including Andrea Pisano's original reliefs.
The museum was closed for refurbishment for many years, but now contains several rooms that tell the history of Santa Maria del Fiore. On the ground floor, there is a room containing sculptures from Di Cambio's workshop, which once occupied niches in the cathedral.
There are also religious paintings by Donatello and others. There is also a statue of Pieta by Michelangelo in the museum, as well as a statue of La Maddalena by Donatello. The museum also houses original tools used during Duomo's construction. The original Baptistery gates are also on display in the Duomo Museum.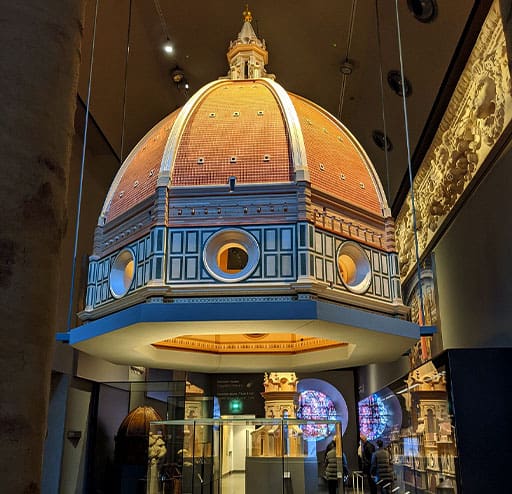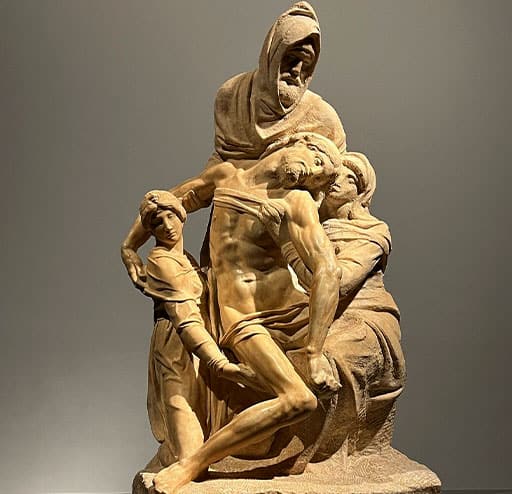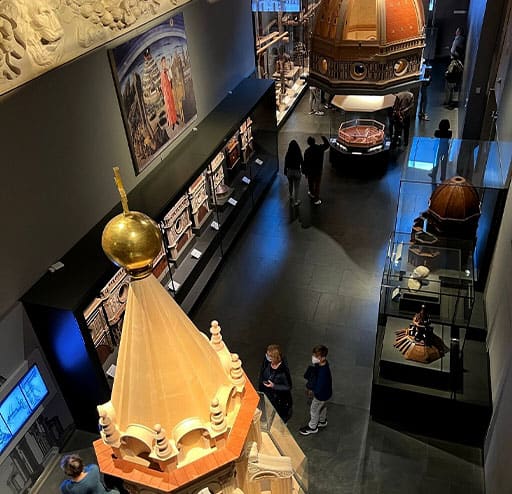 Duomo Florence Tickets & Info Cathedral
Here you can find all the information you need to visit the Duomo complex Florence
DUOMO FLORENCE – Opening hours
TIMETABLE 2023
Dome
Monday-Friday: 8:15 am – 6:45 pm (closing at 7:45 pm)
Saturday: 8:15 am – 4:30 pm (closing at 5:15 pm)
Sunday & public holidays: 12:45 pm – 4:30 pm (closing at 5:15 pm)
Museum
Open every day: 9:00 am – 7:30 pm (closing at 7:45 pm)
Closed on the first Tuesday of each month.
Bell Tower
Open every day: 8:15 am – 7:00 pm (closing at 7:45 pm)
Baptistery
Open every day: 9:00 am – 7:30 pm (closing at 7:45 pm)
On 26th & 28th July: opening 2:00 p.m. closing 7:30 p.m.
Cathedral
Monday-Saturday: 10:15 am – 4:30 pm (closing at 5:00 pm)
Sundays & religious celebrations: Closed, due to worship.
No ticket required: free access.
Santa Reparata
Monday-Saturday: 10:15 am – 4:30 pm (closing at 5:00 pm)

Sunday & religious celebrations: 1:30 pm – 4:30 pm (closing at 5:00 pm)
The monumental complex will be closed on 17th April (Easter), 25th December & 1st January.
Ticket offices: Piazza San Giovanni no. 7 and Piazza Duomo no. 14/A: open every day 8:00 am – 7:15 pm.
– DM. The monuments are closed on Easter, 25th December & 1st January.
Ticket Offices: Piazza Duomo n. 14/A and Piazza San Giovanni n. 7
Open every day: 8:00 am – 7:15 pm.
The Cathedral is closed to visitors on Sundays and during religious celebrations.
To ensure you will have access to the museum on the day you desire, please confirm the opening hours on the official website
Our recommended Duomo Cathedral Tours – Skip The Line Access 2023
DUOMO FLORENCE – TICKET PRICES
Brunelleschi Pass
(Dome, Bell Tower, Museum, Baptistery, Santa Reparata)
Full: 30€
Reduced: 12€
Free: 0€
Giotto Pass
(Bell Tower, Museum, Baptistery, Santa Reparata)
Full: 20€
Reduced: 7€
Free: 0€
Ghiberti Pass
(Museum, Baptistery, Santa Reparata)
Full: 15€
Reduced: 5€
Free: 0€
Cathedral
Free access without booking/ticket.
Dome guided tour (Language: Ita&Eng)
Full: 40€
Reduced: 30€
Free: 0€
Cathedral guided tour (Ita&Eng)
Full: 13€
Reduced: 7€
Free: 0€
Baptistery & Museum guided tour (Ita&Eng)
Full: 25€
Reduced: 15€
Free: 0€
The Three Pietà by Michelangelo guided tour (Ita&Eng)
Full: 20€
Reduced: 10€
Reduced Ticket
Boys and girls from 7 to 14 years.
Students of all levels, Italian and foreign, showing at the ticket office a Student Card or similar document (e.g., university booklet), can buy Ghiberti Pass at a reduced price.
Free Ticket
Children under 7 years.
Persons with disabilities and their carer: subject to assessments and considerations for people with disabilities, upon verification of appropriate documentation, and possibly for the companion.
For any information, write to: accessibilita@duomo.firenze.it
Priests, religious men, and women.
The licensed tourist guides in the province of Florence are entitled to free access according to the procedure described from this official duomo website
Tourist Guides with an influential group and upon specific request to the sales office writing to commerciale@duomo.firenze.it. Free admission is granted only to the Opera Duomo Museum, the Baptistery, and the crypt of Santa Reparata.
Importent Info :
– The 3 Passes are valid for 3 calendar days starting from midnight and one minute (00:01) of the day selected for the visit. Only to access the Dome it is mandatory to respect the chosen date and time. Reservations cannot be changed.
– The validity of Brunelleschi Pass starts from the date selected for the visit to the Dome.
– The Cathedral is free, without booking/ticket.
---
Our recommended Duomo Cathedral Tours 2023
LEARN MORE ABOUT FLORENCE'S OTHER ATTRACTIONS
Links you might find useful